Choose a GRACE POOL for …STYLE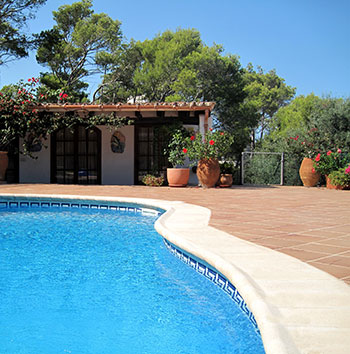 Let your imagination conjure up the setting of your dream pool. Maybe a river scene with a pebble effect, reminiscent of a welcome natural pool on a hot tramp through the bush. Or a crystal blue mosaic design creating a Mediterranean ambience. With a Grace Pool it's all possible.
Grace Pools are luxurious swimming pools custom designed to complement your home and garden. Whatever your style preference, let us tailor your pool to the ideal shape, size and floor plan. The patented Grace Pool build system is extremely versatile and you can choose from a wide range of options such as steps, seats, infinity edges and automatic covers.
Gorgeous liners are strong with a silky smooth finish. With a wide palette of colours, creative friezes and striking patterns, they're high fashion for your pool.
Choose a GRACE POOL to achieve your dream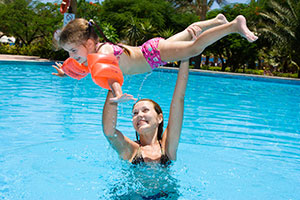 With the Grace Pool build system your dream pool can become a reality. Style is an important consideration, but the pleasure you get from your pool will also be influenced by how functional it is to use, how easy to maintain, and the running costs.
design
Your Grace Pool will be personalised to suit your taste and budget, combining your ideas and our expertise to produce the optimum design for your section.
construction of the pool shell
A Grace Pool will provide you with a fast efficient quality build representing good value for your investment. Insulated panels have been carefully engineered using modern materials and technology to optimise strength. They are braced into position with a reinforced concrete beam for maximum durability. Panels are covered by a 10 year guarantee.
insulation
The wall panels are insulated, and special underlay between the concrete floor and the liner provides added insulation. This ensures excellent heat retention within the pool, keeping heating costs economical and enabling you to extend the swimming season.
liners
Swim in a Grace Pool and enjoy a luxurious liner that's soft to touch and gentle underfoot. Using the latest technology the liners are cut and welded to precise tolerances to ensure a perfect fit. They are algae resistant making them hygienic and easy to keep clean and looking good. They are also
protected against UV radiation that discolours and weakens conventional liners.
sanitation
All pool fittings and filtration equipment has been carefully engineered to provide safe, clean water with economical running costs. The components used to construct a Grace Pool are non corrosive so they are compatible with salt chlorinators.
STEP OPTIONS
Adding beauty and functionality
Custom designed to complement your pool.
Steps an integral part of the pool liner.
Soft underfoot – no hard edges.
Some suggestions…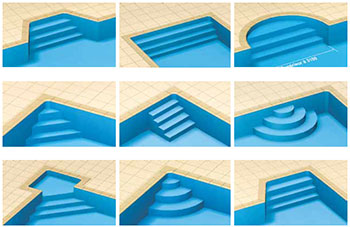 LUSCIOUS LINERS
high fashion in your pool
Wide choice of liner colours for water that looks blue, green, turquoise or that changes with the weather.
Gorgeous patterns, friezes and bands.
UV protection – protected against UV radiation that discolours and weakens conventional liners.
Individually welded to the exact dimensions of your pool and available in a choice of thicknesses.
Stain and algae resistant.
Impeccable waterproofing.
Durable.
Smooth to touch and non-abrasive.
Waterproofing and anti-stain guarantees up to 10 years (varies depending on type of liner elected – check with your pool installer for details).
New Pools
Choosing a Grace Pool will provide you with a fast efficient quality build. We project manage the pool build from concept to completion.
The components have been carefully engineered to take full advantage of modern materials technology ensuring high strength and excellent heat retention qualities with economical use of materials.
Recent pools under construction
This free-form shape pool shows the interlocking insulated panels assembled and ready for the concrete to be poured to form  the top of wall reinforced concrete beam.

The GRACE POOL wall panel has no metalic components and is bonded together with reinforced concrete beams.

If your preferance is to sanitize the pool by installing a salt water system you can have piece of mind that your pool shell will not deteriate.

The liners are manufactured to be a perfect fit with no unsightly creases or folds. You can choose your colour or pattern or add a printed tile band.

There are two thicknesses of liner material to choose from – the standard .75mm with 5 year full replacement guarantee or the .85mm liner with 10 year full replacement guarantee plus 5 year stain guarantee. These liners are extremely tough yet with the benefits of a silky smooth finish.